Having owned a few Suzuki Samurai's and a Sidekick in the past, Curtis decided the approach he would take with this Suzuki Samurai would be a little different.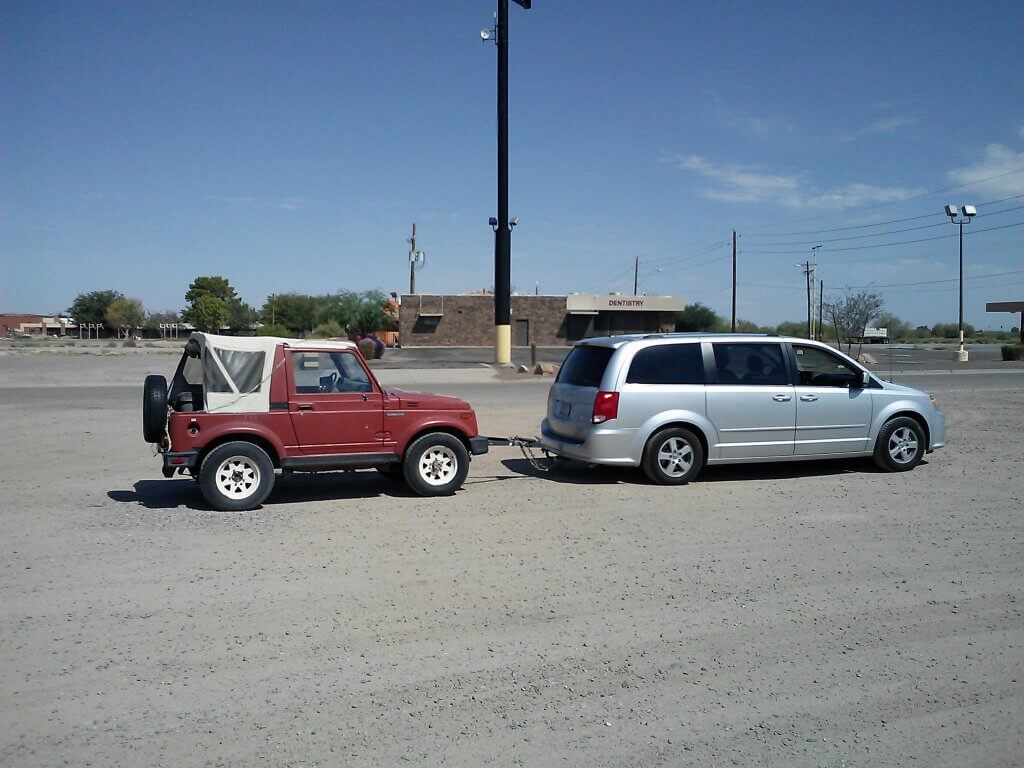 Instead of taking the easy route most of us would take, and swiping their credit card at every occasion to have ready-to-install parts delivered to our doorsteps, Curtis has built everything he possibly he can at home with the most minimalist set of tools.
When you walk into Curtis' garage, you won't see any fancy tools from box trucks or big box stores, instead you'll see tools from Harbor Freight or eBay, tools that most budget wheelers can easily afford.
Some Assembly Required
Curtis originally picked up his red 1986 Suzuki Samurai in 2012, at the time it had original 59,000 miles, and was in about 59,000 pieces. From the history Curtis tells us, the original owner blew a head gasket in 2001 and never got around to fully fixing it. When Curtis picked up the samurai, all the pieces were there, including a new head, but according to Curtis "some assembly was required".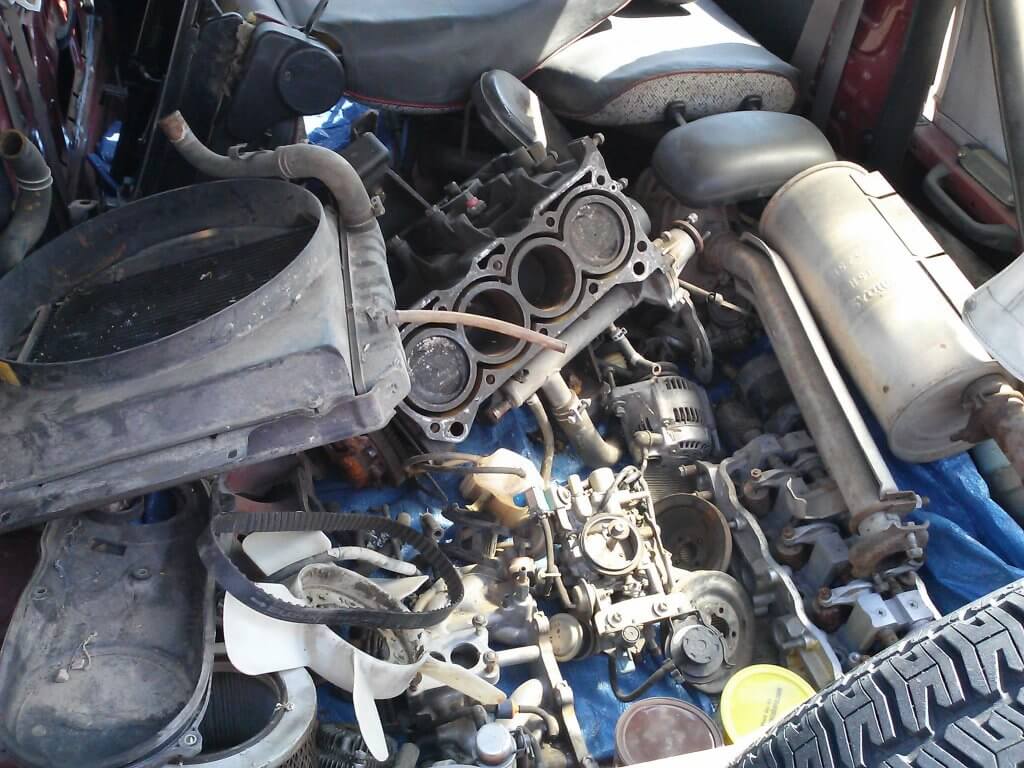 First Mods
Being a veteran off-roader, Curtis flew by all the rookie mistakes most of us make when it comes to the first set of mods. Instead, the first set of mods Curtis made to his Suzuki Samurai were installing lifted springs, heavy duty shackles, a spool in the rear of the samurai, making front and rear bumpers, building some sliders and diff protection. All the things you need if your samurai is going to spend a good amount of it's life off the beaten path.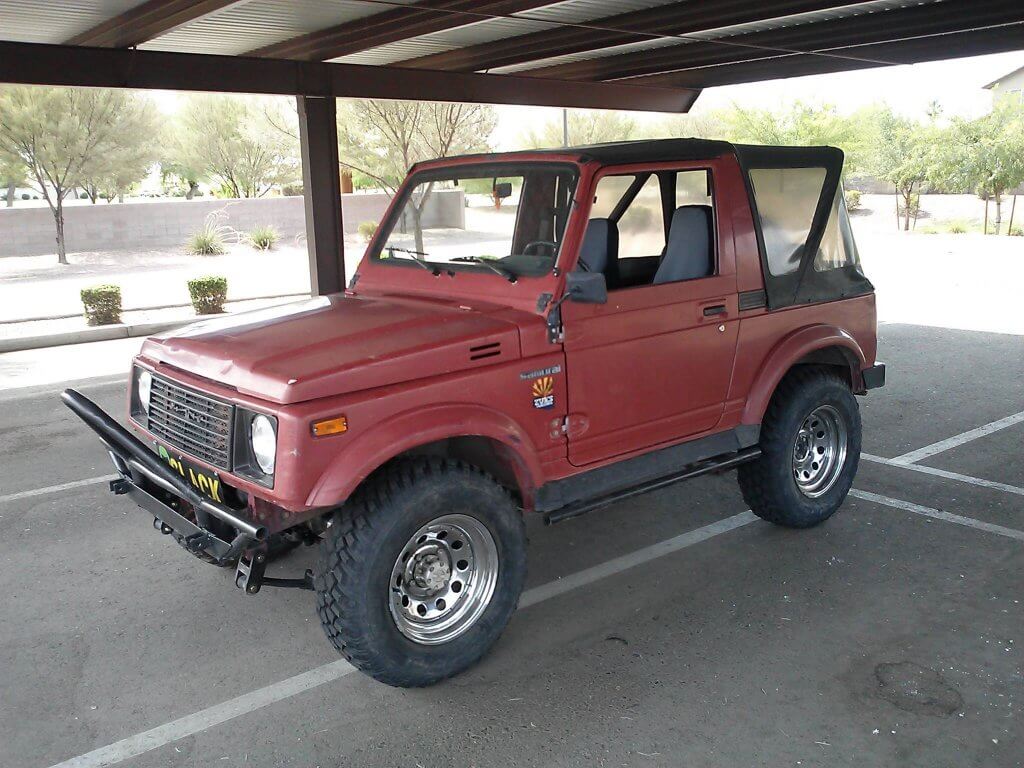 Current Set of Mods
Over the last eight years, Curtis has made significant improvements to his Samurai, but it still looks almost the same as the day he bought it, minus the Arizona pin-striping and body work done by gently letting boulders massage it.
Rear Suspension
Jeep YJ springs mounted spring under using DIY mounting plates and shackles. 3″ lift over stock height.
Front Suspension
My own custom radius arms with coils from the rear of a 2 door Tracker, 3″ lift over stock height.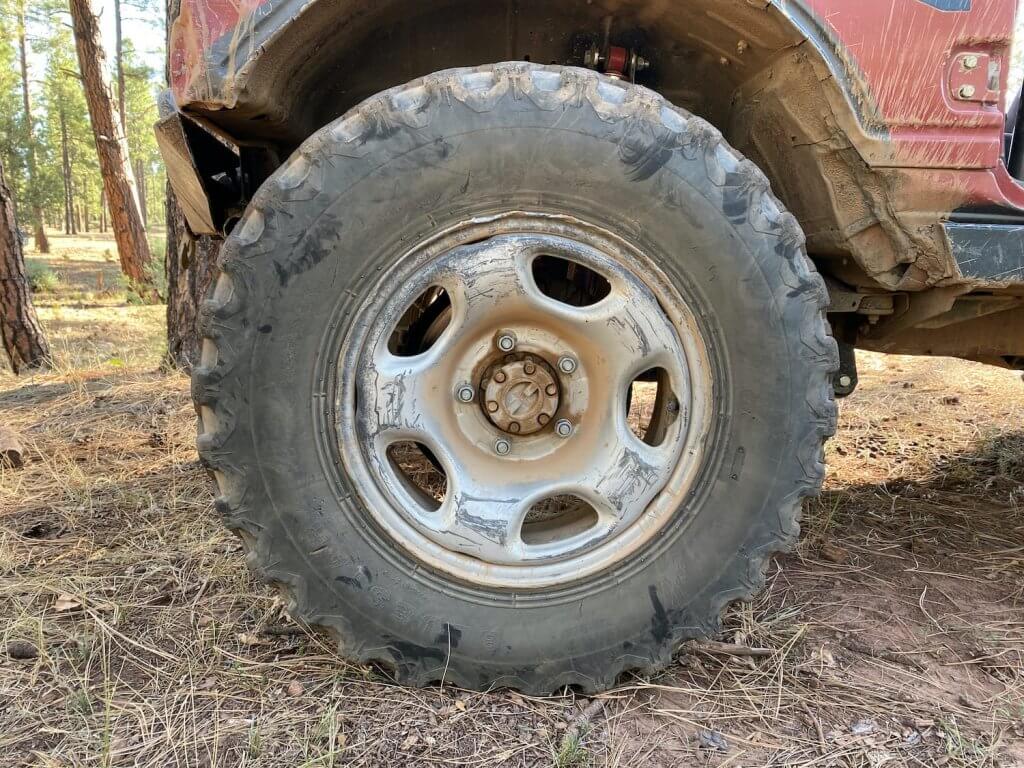 Tires
7.5R16 bias ply mud tires, Bluestars they are 32″ tall and 7″ wide…pizza cutters.
Wheels
16″ stock steel Vitara rims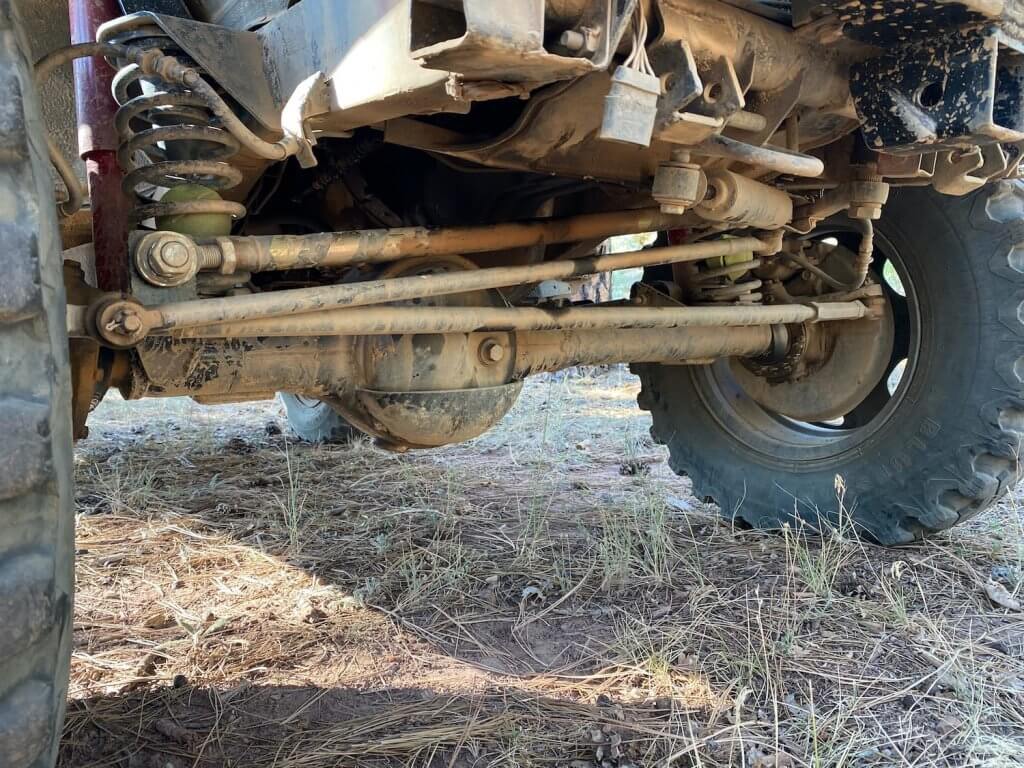 Front Axle
Samurai stock gears, chromoly axles "Fozzy" locker
Rear Axle
Samurai stock gears with a spartan locker
Front Bumper
My own custom plate bumper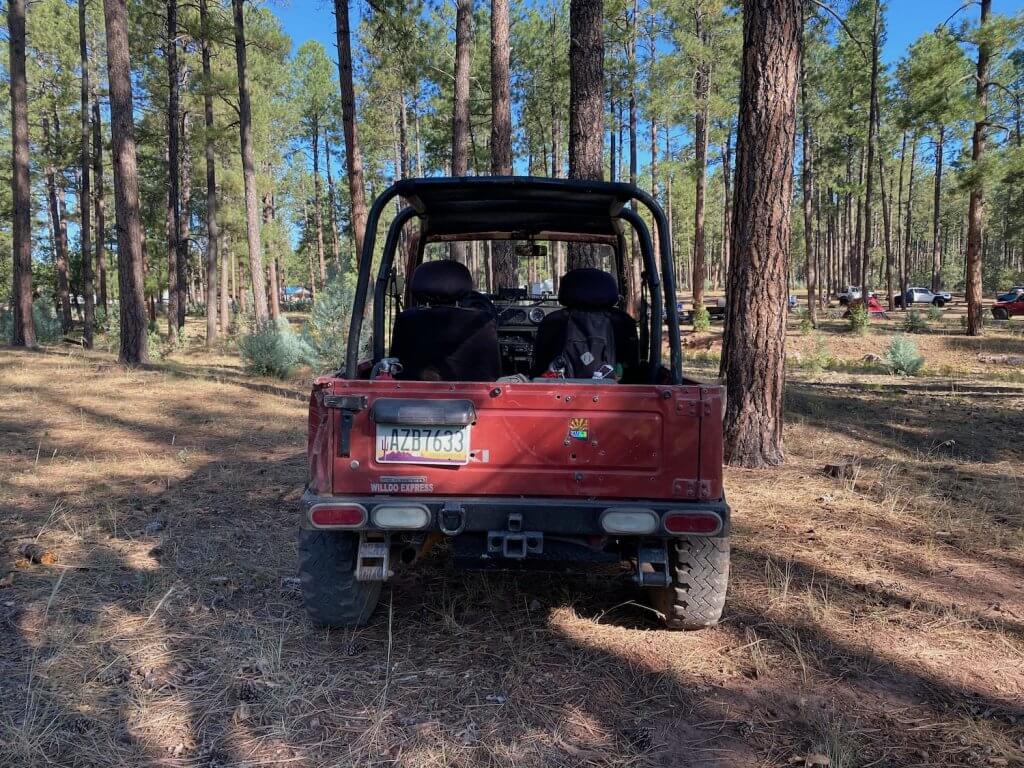 Rear Bumper & Tire Carrier
My own custom rear bumper, no full size spare carried.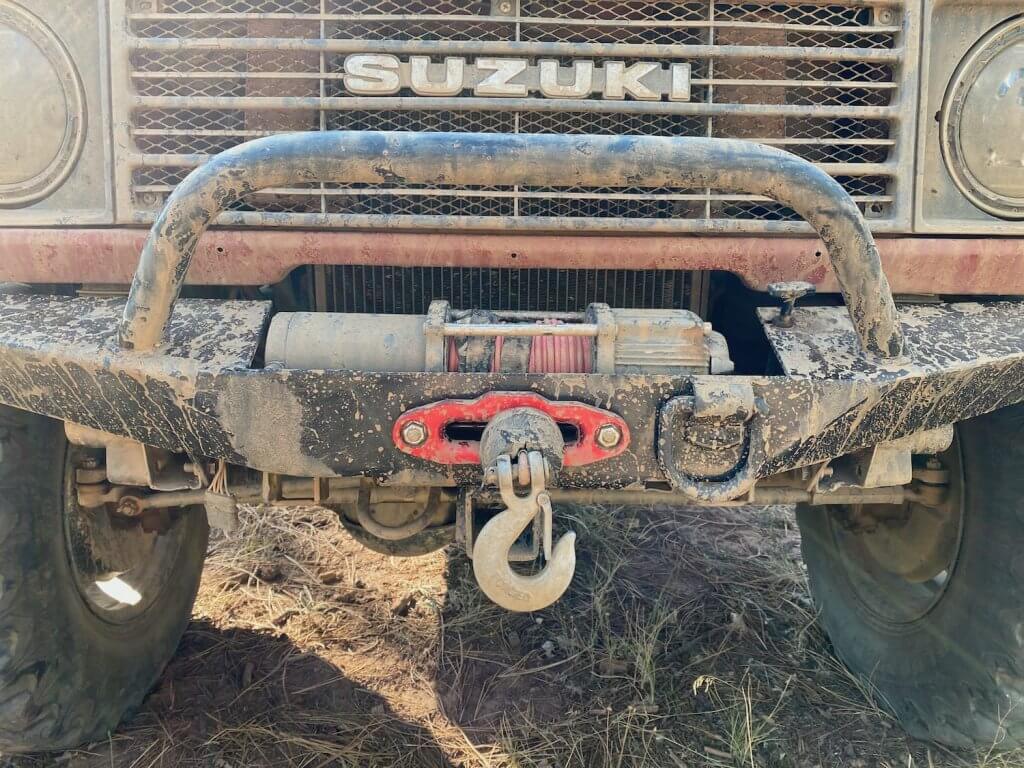 Winch
Harbor Freight 5,000 lb winch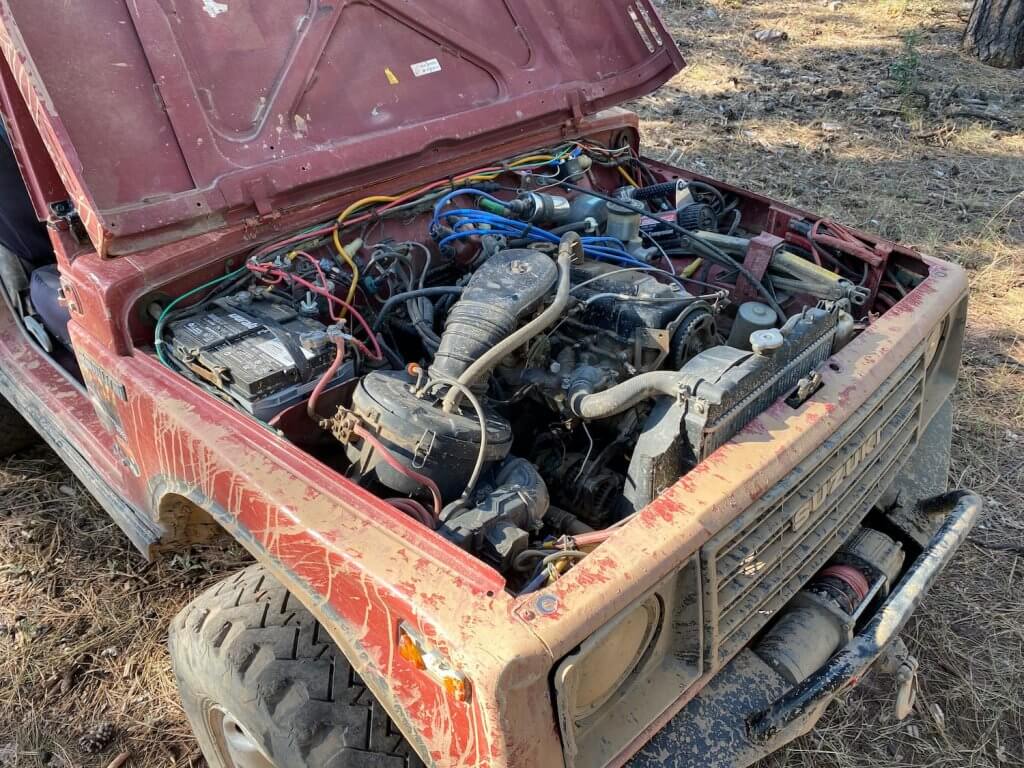 Engine
Original 1.3L with Toyota 3K carburetor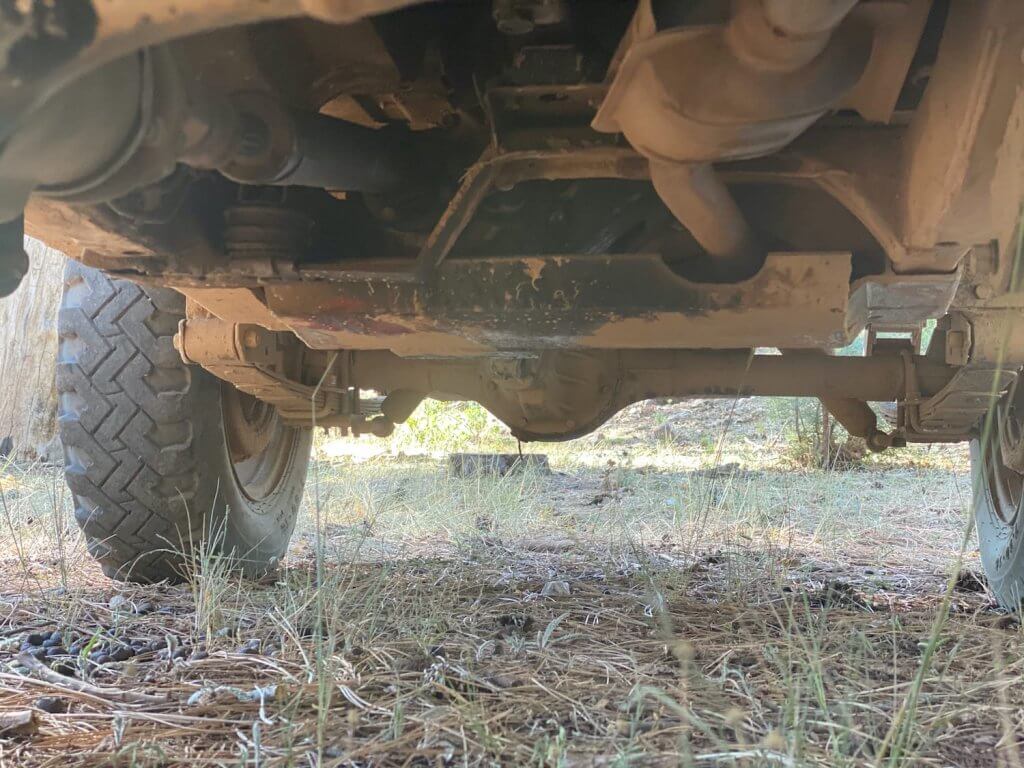 Transmission
Stock Samurai
Transfer Case
6.5:1, ZOR Twin Sticks w/boots, shaved Kong cradle.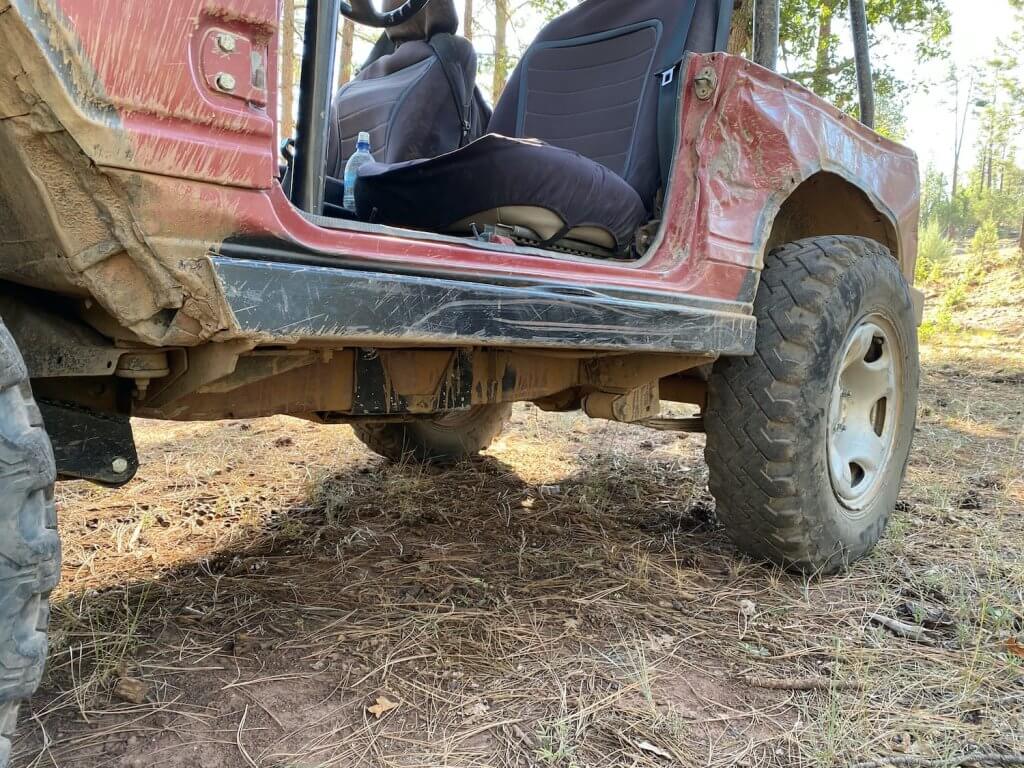 Steering
Electric power steering from a Nissan Versa
Armor & Protection
DIY belly skidplate, differential caps. DIY roll cage tied to frame.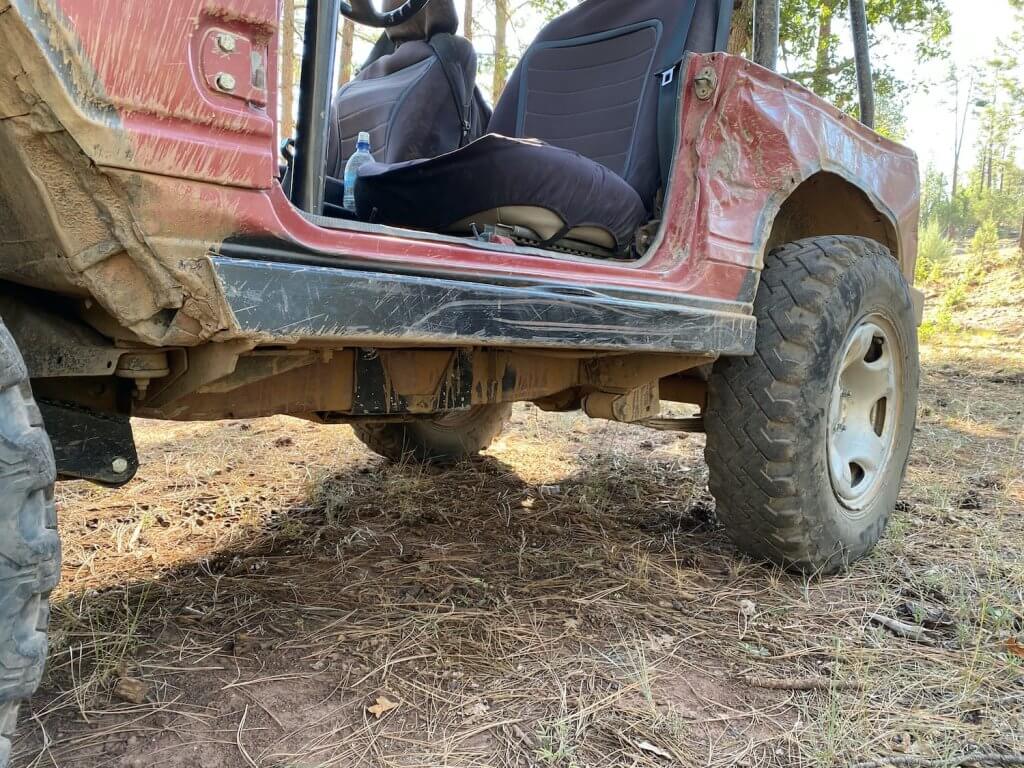 Rock Rails
My own custom rock sliders 3″ x 1/4″ square tube cut lengthwise and mounted to frame.
Electronics
Some sort of cassette radio, mount for tablet. extra power ports, second fuse box.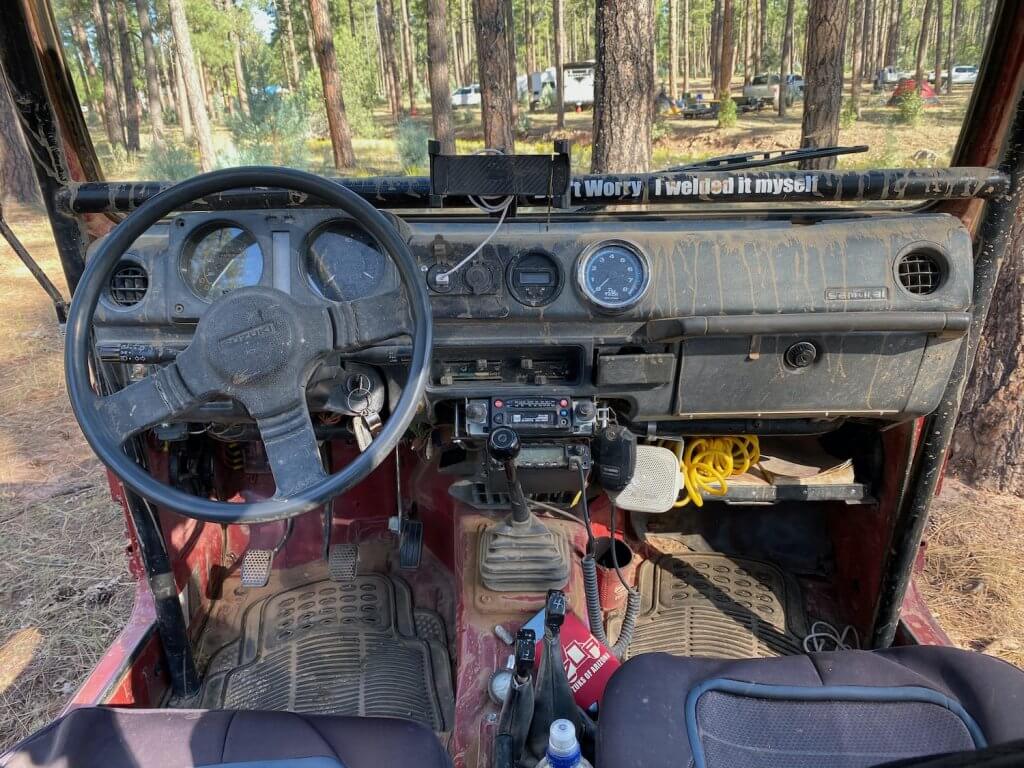 Communication
Dash mounted 60 watt race radio
Lights
LED headlights and taillights.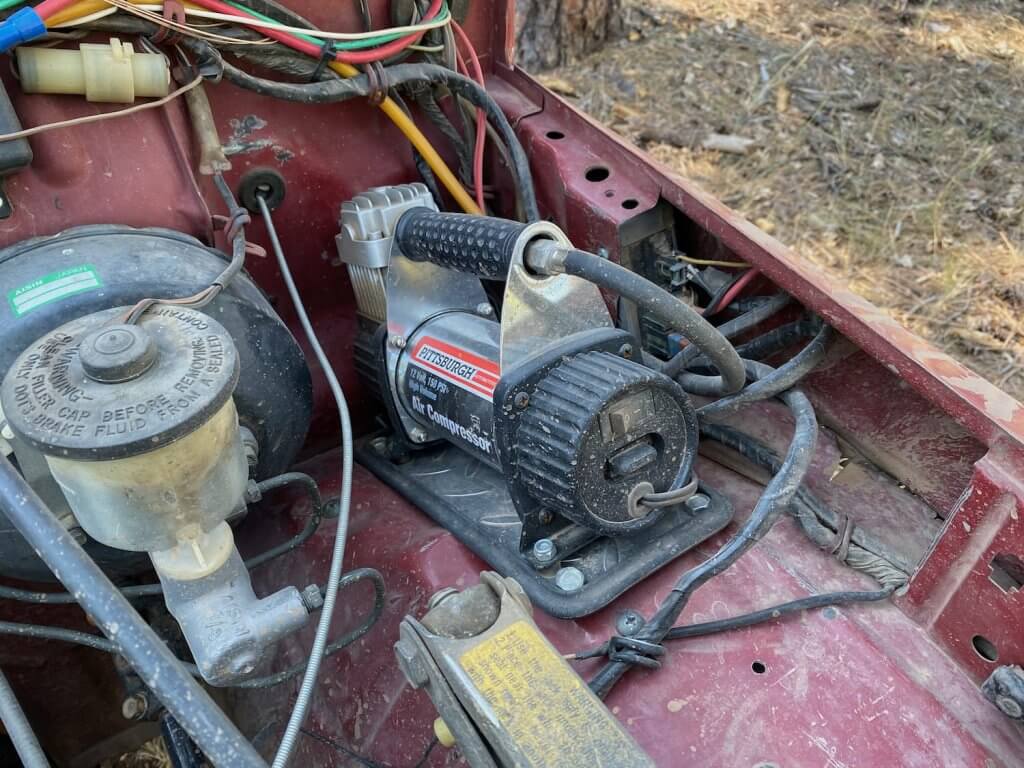 Misc
On board air compressor (Harbor Freight), DIY windshield fold down hinges, "unbreakable" chrome steel drivers side mirror, additional fender trimming to clear tires, disregard for body damage.