I ordered the Altered Ego 4.5" lift with the Superflex option right around the middle of April, Altered Ego had it delivered to me in early May. They forgot to ship me my super-flex johnny joints and I had to run around to get them to ship me those providing pictures and videos. I also ordered the wrong bracket for the front-diff, but all said and done, I had the full kit ready to install a month and a half after I ordered it.
The lift kit itself is about as sturdy as I've seen. There are nightmare stories out there of aftermarket arms breaking from other manufacturers, I don't think I'll have this issue with the Altered Ego Lift Kit.
The directions are plain and hard to follow at times, for someone with a limited knowledge of piecing together a pile of parts, along with some nuts and bolts the task could have been easier. The instructions were very rough around the edges, you can take a look yourself, but an image or two would have made it a lot easier to follow along. There were several pieces that I had no idea what were for, and had to reach out to Altered Ego for clarification, luckily on install day I had a friend helping that knew what he was doing.

Install Day
The install of the Altered Ego 4.5" Lift Kit with Superflex Option on my 2000 Suzuki Grand Vitara went fairly smooth.
Front Lift Kit
The brackets that relocate the front axle, moved it over 0.25" towards the driver side and way down, which required some shaving down of the bottom of the axle so that it wouldn't hit the cross member. Not sure if I'm a fan of that yet. It didn't help that I went against what Altered Ego suggested and tried using my 2" lifted Old Man Emu struts, those push the axle way too far down, next weekend I'll be installing the recommended stock height struts.
It took us about 6 hours to install the front part of the lift, which included the front arms, diff relocation brackets as well as the the strut drop brackets up top. If it wasn't for me breaking the c-clip inside the diff and needing to drain that, find the broken c-clip and then driving to the auto-parts store for a replacement CV shaft, we probably could have finished the front portion of the lift in 3-4 hours.
Rear Lift Kit
The rear portion of the lift went by a lot quicker. It turns out that the Superflex option Altered Ego offers on their 4.5" lift kit are just 4 trail gear creeper joints. Their panhard bar relocation bracket is also a great addition to the lift kit, it's just one less thing you can have to worry about. They also send you an extended brake line kit for the back, with some mystery brackets. The mystery brackets turned out to be the shock relocation brackets, which required 2 holes on each side to be drilled. If it wasn't for James helping me, I'd still be sitting there today trying to figure out how to mount these. This is one of the points in the directions a picture could say a thousand words, but there were no pictures in the instructions so alas. The directions also stated to drill out all link mounting holes on the axle to 1/2″ and to use their 1/2″ hardware, I only received 2 nuts and 2 bolts that were half an inch so I stayed with the stock hardware because it was basically the same size as the hardware they sent.
Overall, I'm very happy with the look of this lift kit. It moved my front axle 1.5" forward, and the rear axle is currently adjusted to sit 1" further back over stock, I have .5" left if I want to go further back with the rear axle. I'm currently running 245/75/16r tires, when these wear out, I'm feeling confident I'll be able to fit 265/75/16r tires on my Grand Vitara. It also helps I'm running 2" body lift.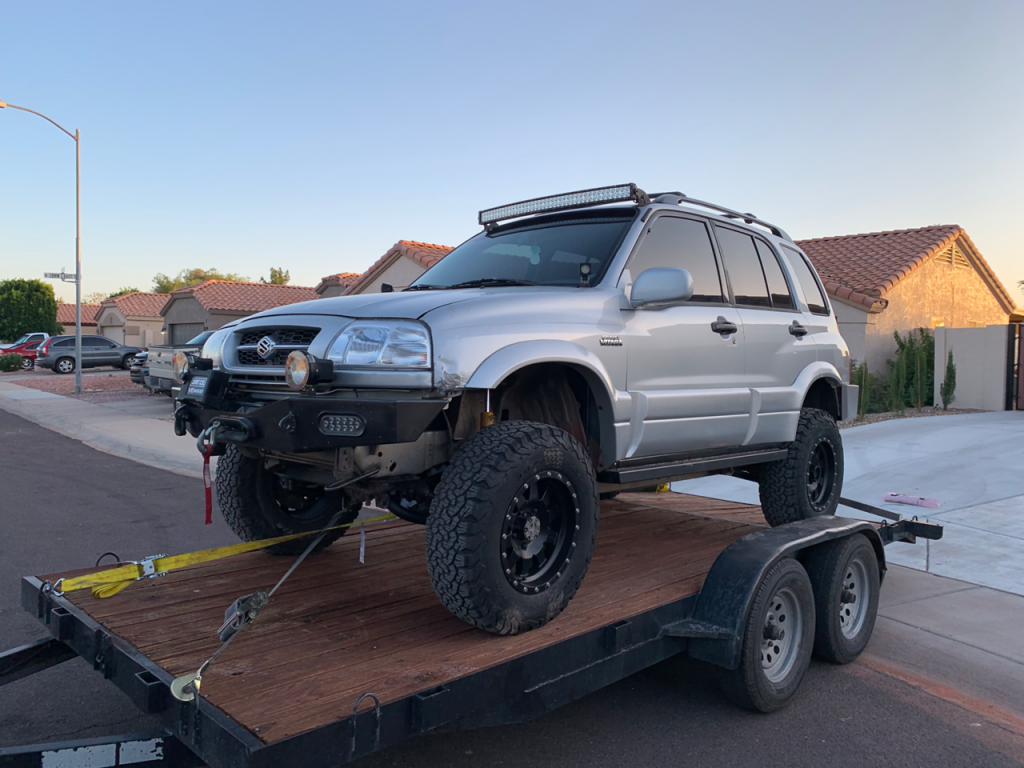 If I had to do it again, I'm not sure if I would go with the Altered Ego Lift Kit, mostly because of the price. Calmini sells their lift kit for $1300 shipped, granted you're ordering from Calmini so you will never receive the product you pay for.. just google around for stories. For the Altered Ego 4.5" Lift Kit with the Superflex option including shipping I paid right around $2300 US Dollars. To be honest, that's too much for this, especially considering there were a number of missing nuts and bolts, the directions were unclear and the lift kit didn't include struts.
Two years ago I paid $900 shipped for my Old Man Emu lift kit that yielded a little over 2.5" of lift, it didn't include drop brackets, and left my CV shafts with a weird angle, for the price it was a good deal. At first the 2.5″ Old Man Emu lift kit was fairly stiff, but after I broke in the springs it was one of the smoother riding lift kits I've installed off the shelf.
I do have to admit, the Altered Ego 4.5″ Grand Vitara lift with Superflex options is by far the smoothest riding lift, I've driven. I haven't had a chance to take it offroad yet, but driving down the street over speed bumps and pot holes, it literally floats over them. It's as comfortable as my Suzuki Samurai was on the Asian Auto Parts full length YJ spring conversion.
I can't thanks James enough for helping me install the lift, Myron for letting us use his shop with a lift, it made the install that much smoother, Paul for lending us a hand in the morning, and all the guys at Myron's shop that answered our questions where we could find tools.
Update – 6/5/2019
I received my OEM length Monroe Strut, after slotting the top hole to help with camber, I'm sitting at about .5-.7 positive camber, the alignment shop will be able to tell a lot better than I can. Here's a shot of the driver side arm of the Altered Ego 4.5″ lift on my 2000 Suzuki Grand Vitara with a Monroe strut.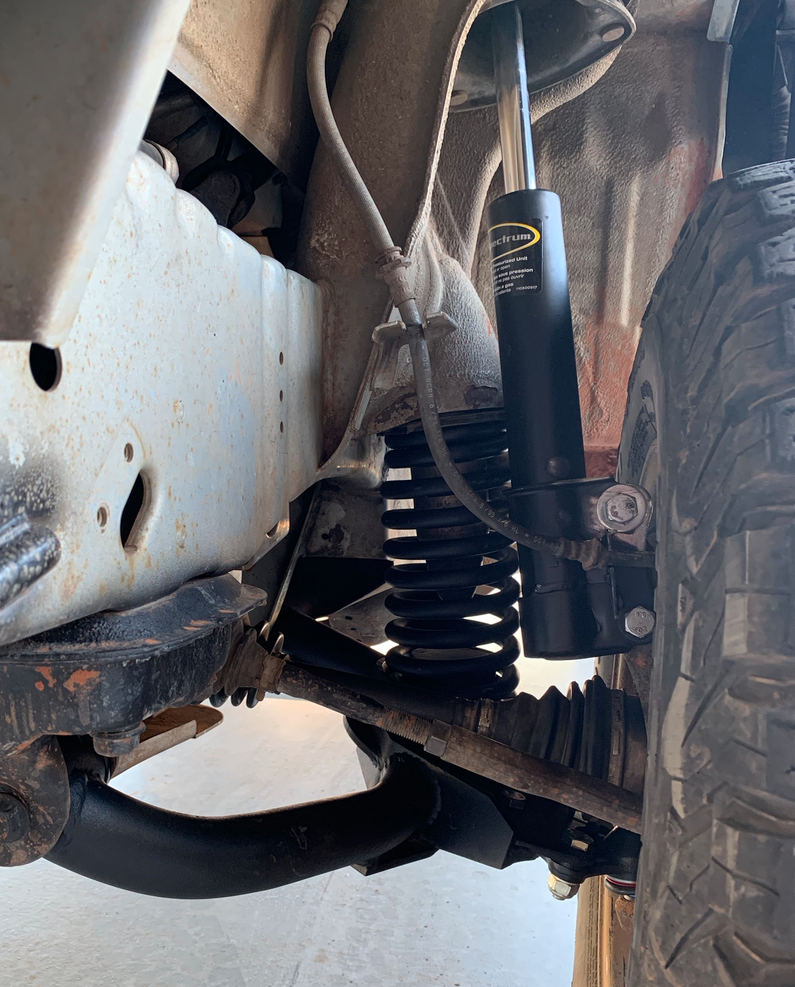 Here's a comparison of a stock height strut vs. an Old Man Emu.
9 Month Update with my Alter Ego 4.5″ Lift Kit for the Suzuki Grand Vitara
Updated 3/25/2020
Went to the dunes last month, and maybe I had a little too much fun in the Grand Vitara. I bent both of my Altered Ego controls arms right at where the ball joint connects.
I wasn't the easiest on the Grand Vitara, but I don't think I drove it nearly hard enough to bend control arms. I had a friend there in another Grand Vitara that led the way, and he didn't have an issue with his stock control arms. All the crossing over the dunes and the chopped up sand was too much for the altered ego arms. When looking at what went wrong for the arms to fail, I noticed the springs were coil binding before bump stops ever were close to full compression, so something had to give. The area of the arm where the ball joint is attached could have been braced a little better, I have a feeling if the steel was a little thicker there and the bump stops were a bit longer the arms wouldn't have failed.
Here are all the failure points on the 4.5″ Alter Ego Control Arms on my 2000 Suzuki Grand Vitara
I called Altered Ego hoping they were still under warranty, turns out their warranty is only for 6 months, I was at 8 months. So instead of trying to fix these arms myself, and then spending a year chasing alignment issues, I gave them my credit card and ordered another set of $650 arms. When I talked to them they told me they never heard of anything doing something like this, but they were working on a new version of these arms that are reinforced a little more. I ordered them on February 10th, and they showed up at my door March 24th. All in all, considering the uniqueness and availability I'm pretty happy about the turnaround time.
I installed the new arms as soon as they showed up. Turns out they didn't just reinforce them, they changed the geometry quite a bit. With the first version of arms, the springs had roughly 12″ of room, with the new arms, the springs are down to 10.5″. Not yet sure exactly what that means for ride comfort, or bottoming out. But I guess I'll figure that out soon enough. I did measure where I'm at with the lift, and it looks like I'm sitting .3″ lower on the frame with these new arms.
Here are the comparison pictures with both the original version of the Alter Ego Lift Kit Control arm, and the new 2020 Reinforced Version of the control arm.
I wish they reinforced the part where the ball join attaches a bit more, having it be a little thicker steel would be ideal. Before I take it out to the dunes again, I'll be stripping the powder coat off and reinforcing them myself and probably lowering the bump stop depending where it's at after I have the time to test these.
Measurements with the new and old Alter Ego Control Arm that comes in the 4.5″ Lift Kit for the Suzuki Grand Vitara and Tracker
I did notice that with the more limited travel my passenger CV shaft seems to be in a little happier spot, it barely binds now at full droop instead of binding pretty hard at full droop like it did before. My strut also started leaking really bad on the passenger side, so I didn't get to drive it nearly as much as I wanted to, but after doing an alignment and taking it for the drive around the neighborhood I noticed it feels a little more sturdy as far as the suspension up front wanting to drop out. Before when I took the two turns out of my neighborhood it felt like the either side of the suspension would drop out a little too far and I'd almost feel a thunk, that seems a little more under the control now. It's still too early to tell though the shot strut doesn't help the situation.
I had to do a hell of an alignment, with these new arms my toe was out about 1.5″ and the camber is 2* positive on both sides.
New struts are ordered, should be here Monday, I'll hollow out the holes and weld a washer on those to fix the camber issue and I'll double check where I'm at with the alignment one more time. I also ordered new ball joints just to make sure these ones aren't bent.